5 07 2008
70-542 – Done!
Couple of days ago I had 70-542 Microsoft Office SharePoint Server 2007 – Application Development exam. It wasn't one of easiest exams I have ever had but now it is done and I am certified SharePoint developer. 🙂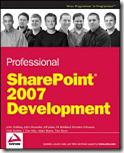 70-542 covers mostly MOSS2007 Standard and Enterprise features and there are not only common questions but you must also know things on code level. I found surprisingly few information from internet about this exam, but I got one good friend – Professional SharePoint 2007 Development. This book is almost all you need to get 70-542 done. I will write more about this book soon, so stay tuned!
I have also another advice you should take seriously. To get 70-542 done you have to try out how server features work. Just put up your copy of SharePoint Server and try everything out by your own hands. Also try to write some code and see how things work and what you can do on code level. After this you should be ready to take 70-542 exam.
---
Code Complete 2 Database Error When Installing BDC Definition Editor
---
See also