8 07 2008
Database Error When Installing BDC Definition Editor
To make your life easier when creating BDC application definitions you can use BDC Definition Editor that comes with SharePoint Server SDK. You have to install it separately after installing SDK. Installer is located in SDK installation directory.
I had some troubles when installing BDC Definition Editor. You can see error message on the picture below (run setup.exe to install DBC Definition Editor).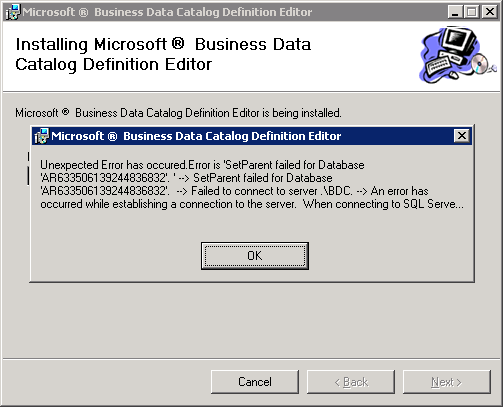 Two things to check out if you get the same error:
Check out if MS SQL Server (no matter if Express edition or higher) instance called BDC is installed. If there is no instance called BDC then install new instance of SQL Server and call it as BDC.
If you see the instance already then make sure it is started. On my virtual machine installer somewhy wasn't able to start required SQL Server instance so I had to do it manually.
One thing you should know is that install may take long time. So after starting setup and starting installation you may have a cup of coffee or anything else you like and wait or go out with your dog 🙂
---
70-542 – Done! Response.Redirect and Response.End
---
See also