25 09 2008
DocumentShow extension for SharePoint
We finished today one interesting SharePoint extension. We call it DocumentShow extension and it allows you to show HTML files in document library as slide show. In our case the customer wanted to show some reports on large LCD screen located in one of his office rooms.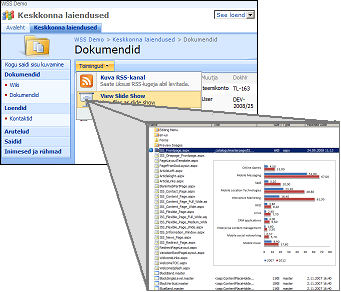 Here on the right you can see my MS Paint marketing image for this extension and like all my art work it may insult marketing people. So be extremely careful if you show this piece of art to them.
The point of DocumentShow extension is simple. After deploying DocumentShow solution you can see new menu item in list actions menu: View Slide Show. Clicking on this item new window will be opened and it starts to show HTML documents from this document library.
Each HTML document is shown given amount of seconds and then the next file is taken. If last file is shown then it starts over from first file. Meanwhile it checks if there are new files in server and the list of files is updated. Simple to install and simple to use.
Let me, please, know what you think about this extension.
---
Connecting to SharePoint and using elevated rights Professional SharePoint 2007 Web Content Management Development
---
See also