7 11 2008
TechEd 2008 – I'll be there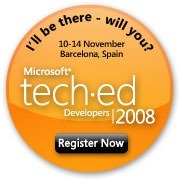 Developers! Developers! Developers! TechEd 2008 EMEA for developers is coming and I am glad to announce that I'll be there with all developers from my little company. I hope you are there too! 🙂
Last year was my first time in TechEd and from the first day I knew – this damn event is something I don't want to miss. It is something where new things happen. It is possible to meet cool professional guys there and find new friends.
This year I go to Barcelona for a weekend before TechEd. Just to see this beautiful city again. Believe me, Barcelona is one of the coolest cities in the world. There are a lot of things to see in Barcelona, so if you have time during event then go and see the old town, have some architecture trip and enjoy catalan kitchen.
If you want to meet me and my team then drop me a line through contact form. I will be at TechEd 2008 Developers all days.
---
Expert .NET 2.0 IL Assembler TechEd 2008 Developers – How to start testing
---
See also