23 01 2009
whitehouse.gov runs on ASP.NET
I found some information about www.whitehouse.gov web site and it turns out that this site runs on ASP.NET.
Some interesting characteristics:
web server is IIS 6.0,
ASP.NET version is 2.0.50727,
they use jQuery 1.2.6 but jQuery scripts are not hosted in Google global script hosting service,
pages are GZIP compressed and they seem to use pretty high compression level,
JPG files are highly compressed to make page load faster.
Here's the screenshot of www.whitehouse.gov page that this posting is about.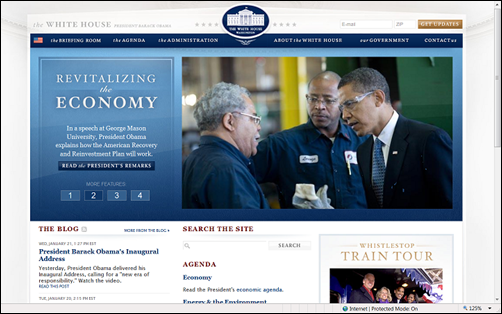 You can read more about this page from Dot Net Perls article whitehouse.gov Website Code.
---
Refactoring: introduce constant Creating SharePoint global calendar
---
See also