19 02 2009
Please help – Visual Studio SharePoint development environment is very slow
I run SharePoint development environment on virtual machine. Virtual machine has 2GB RAM and 30GB disk space. Also I have no complaints over processor (I can run here two usual ASP.NET development virtual machines parallel). All other Visual Studio projects are working well except those that use VSeWSS 1.2.
Hard performance problems occur usually at these moments:
when opening, modifying or saving aspx, ascx or xml files,
Visual Studio is doing something after building,
deployments are pretty slow.
Here is what I have installed:
SharePoint 2007 Standard,
Visual Studio Team System 2005,
Visual Studio Team System 2008,
.Net Framework 3.5.
These problems occur on both Visual Studio installations. I have no problems like these when I don't use VSeWSS. Here's screenshot of Task Manager. Check out what devenv.exe is doing.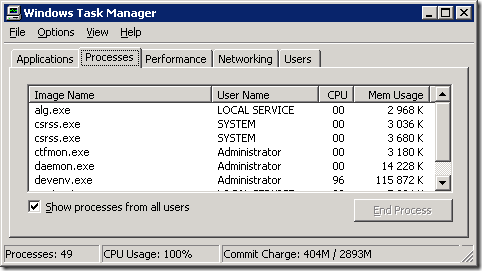 What may be the problem here?
---
Debugging SharePoint solutions using Visual Studio Show your Twitter log in SharePoint
---
See also