10 06 2009
IIS SEO Toolkit: Sitemaps overview (illustrated)
IIS SEO Toolkit provides us besides site analysis also with sitemaps management. We can create sitemaps, sitemaps indexes, add URLs to sitemaps and sitemaps to sitemap indexes. Sitemap indexes are useful when you have more complex sitemaps structure (by example, you may have multiple sitemap files for different modules in you system).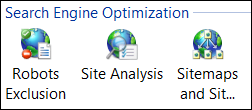 Sitemaps management is also located on site features view under Search Engine Optimization section. Just click on the icon to open sitemaps management interface.
Sitemaps management is pretty easy. Sitemaps management interface lists sitemaps and sitemap indexes and lets you modify them through graphical user interface.
Creating sitemaps
If you are starting with unmapped site then first thing is to create sitemap. If you have only one sitemap then you don't need sitemap index and you can name your sitemap as sitemap.xml. If you have multiple sitemaps then use informative names like products.xml and users.xml. After creating new sitemap the sitemap contents view is opened. Now you can add all URLs you need.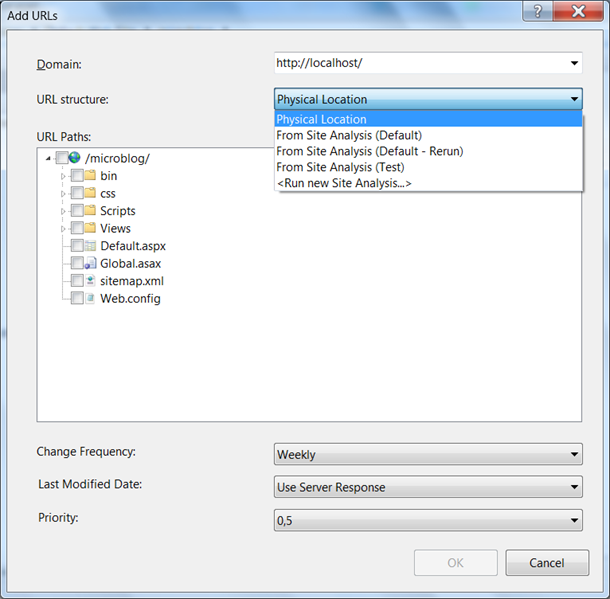 As you can see I am adding sitemap for site microblog. There are some interesting options for URL structure source.
Physical location – you can browse you site's physical file structure and add physical files to sitemap.
Existing site analysis – URLs based on site analysis. These URLs include also dynamically created URLs (by example user profile URLs generated by ASP.NET MVC framework).
Run new Site Analysis – same as previous one but instead of using the result of some existing analysis you start process with creating a new site analysis report.
If you need more dynamics to generate URLs list for sitemap you can read my blog entry ASP.NET Search Sitemaps – something for SEO to find out how you can extend your sitemaps system with dynamically generated sitemaps.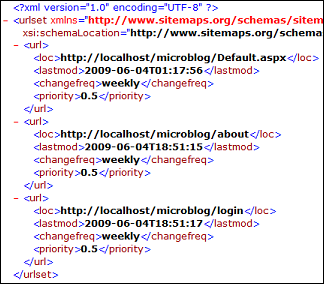 Now let's see the result of our work this far. I added three files to my sitemap: default.aspx (physical location) and then /about and /login URLs (locations from existing site analysis).
Open your browser and type in the URL of your new sitemap. Hit Enter and see what is inside your sitemap. My result you can see here on the image.
You can change last modified date, priority and change frequency for all items in sitemap. Just double click on URL in sitemap contents windows and make the modifications you need.
Sitemap indexes
For more complex sites you may need sitemap indexes. You may have different modules that output their own sitemap. Also you may need multiple sitemaps if your site has subsites and you want your site hierarchy to be handled as one by search engines.
To create new sitemap index go to sitemaps and sitemaps indexes feature view (this is the same one that opens from site features view). Create some sitemaps and move back to this view. Now click "Add Sitemap Index…" and insert sitemap.xml as the name of index. Sitemaps adding window like the one on the following is opened.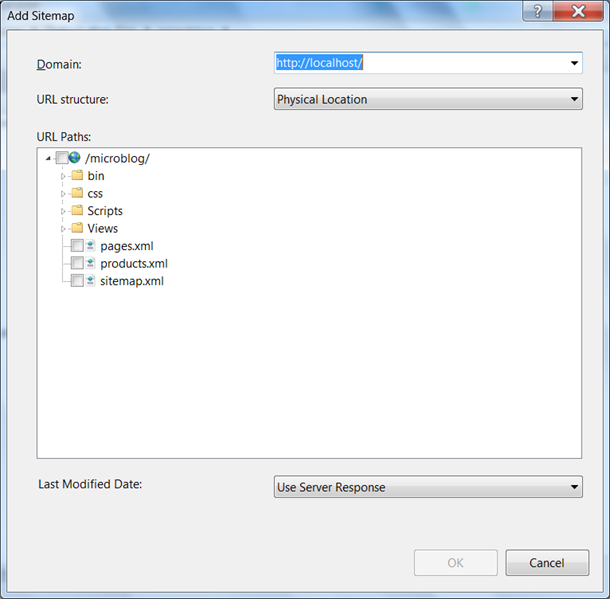 Select all sitemap files you want to include to index and click OK button.
Sitemap index has name sitemap.xml because search engine spiders look for file with this name to find out if there is index created for site or not.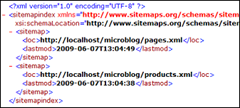 Let's see the results again. We can see that sitemap index has only entries for sitemap files. In my case there are two sitemaps – pages.xml for custom pages and products.xml for products.
Last modified dates of sitemaps can be changes when clicking on sitemap entry in sitemap index contents view.
That's the end for this time. Also read the blog entry IIS Search Engine Optimization Toolkit to find out more about IIS SEO Toolkit. If you get confused or if you have questions, suggestions or comments then feel free to drop me a line.
---
IIS SEO Toolkit: Site analysis overview (illustrated) SharePoint: Internal developer portal – first thoughts
---
See also