20 11 2010
Sinergija10 – We were all in (Beograd, Srbija)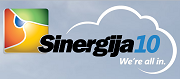 This week I visited conference called Sinergija10 that took place in Belgrade, Serbia. Thanks to Microsoft Estonia who organized my trip there! Sinergija10 was very good surprise to me and I am really considering it as one of Microsoft's top conferences in Europe. Yes, I think it is at least same cool conference as TechEd EMEA. Here is my overview of event and some of my thoughts about Sinergija and communities in area. For guys who are planning to visit Europe events I think Sinergija is event to visit for sure.
What is Sinergija?
Sinergija is conference about Microsoft technologies. First Sinergija took place six years ago. Although Sinergija is Serbian event there were some sessions in english. The other sessions had slides in english so if you don't speak serbian you can still understand what's going on. Speakers were great and beside local ones there were guys like Stephen Forte, Dean Vitner and Richard Campbell. Also some names known maybe more in Europe like Rafal Luckawiecki and Doncho Angelov.
I visited about ten sessions and only one of them was way too easy and primitive for promised level. All the other sessions were pretty strong and really interesting. I have to say that I got more from these sessions than I was able to get in TechEd. And this is one of the reasons I consider Sinergija as very good conference. If you are thinking about events to visit in Europe then make sure you try out Sinergija – it rocks very hard.
The event took place in Belgrade, Serbia. There is conference center called Sava Centar in Belgrade. It is not far from city center and old town. I was hosted in Continental Beograd hotel that is near conference center. You can go from hotel to conference center through passage way and if weather is bad you don't have to go out from buildings. So practically you don't have any longer walks between conference place and hotel. That's very convenient and saves you a lot of time.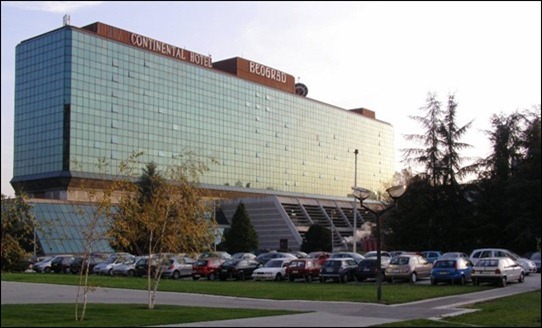 And here is the gift by organizers. This bag is pretty strong one and it is very convenient to carry even if it is heavy and full of stuff like laptop, some books and some more technology I usually take with me when travelling.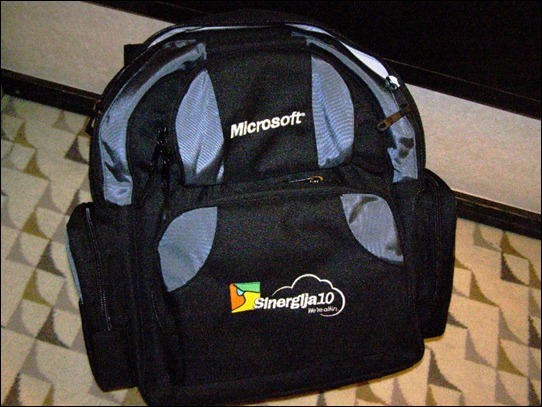 Why is Balkans cool area?
Balkans is cool because all countries there are on the fast development. These countries are different than rich and expensive Euro zone countries. Prices are very good and you can meet people who you don't see in TechEd. I like balkans communities because they are active ones – there are a lot of great developers you can communicate with and for me it was very interesting to talk with these guys.
Here, in Estonia, we don't have something so mind-blowing guys who are eager to talk with other guys on development topics. And what's more cool – if you have questions then ask – you are totally surprised how much good information and advices these guys are able to give you.
Belgrade is nice city that is not ruined by industrial revolution time awful buildings. There are those Soviet time buildings but not so much. I saw there cool new architecture, very well planned business areas with nice houses. This picture is taken near hotel. There is nice new block of houses that look very nice.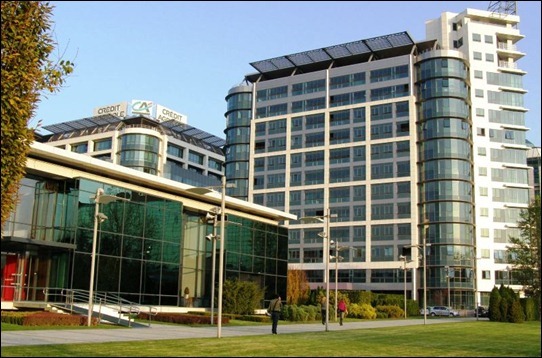 Belgrade old town is beautiful and people seem glad and cool. I also suggest you to visit other cities and countries in this area. And if you go there then try to make contacts with local developers before so you can maybe participate in some local event too.
Sessions and networking at Sinergija
Sessions are not only for developers but also for IT-PROs. Here is the agenda of Sinergija10. Click on days at top of agenda to see what sessions were at what day. I think this agenda speaks more than my words here. I visited the following sesssions:
Technical keynote (John Craddock, Rafal Lukawiecki, Saša Juric, Wim Dierickx)
Windows Phone 7 Application Life Cycle (Doncho Angelov)
Team Development with Microsoft Scrum 1.0 (Doncho Angelov)
Let's talk Scrum with the Scrum guys (Stephen Forte)
Extending Visual Studio 2010 Code Editor using Facebook API (Tomislav Bronzin)
The Scaling Habits of ASP.NET Applications (Richard Campbell)
Deep Dive into Razor Extensibility (Sonja Keserovic)
The world of Model-View-ViewModel (Miroslav Miroslavov)
SQL Server performance problems first aid kit (Dean Vitner)
Unit testing solid fundamentals (Milan Vukoje)
Advanced Unit Testing – real life examples and mistakes (Milan Vukoje)
Pex and Moles (Boban Mikšin)
Specially strong ones were sessions by Dean Vitner and Richard Campbell. And, of course, Stephen Forte with his Scrum topics. He is also on following photo.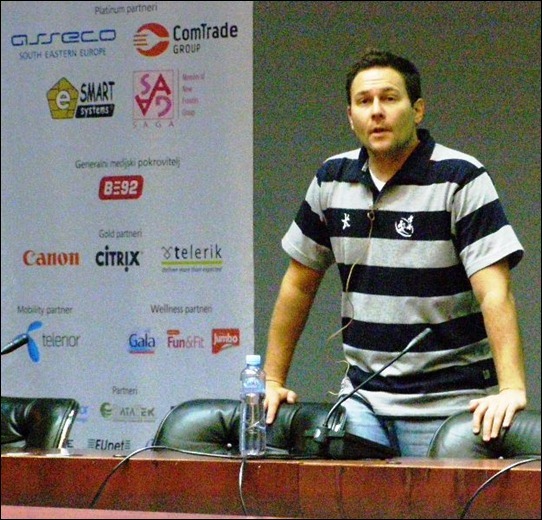 We had also two events at evenings. There was CEE region MVP-s meeting and Sinergija10 party with very loud music and free drinks. Both of these events were good places to communicate with other developers and find new contacts. At least I found some great new contacts that are interesting to me.
Conclusion
If God, Fate, Microsoft or other forces give me a chance to go back there I will go for sure. And also I would like to visit developer events in Bulgarian and Ukraine. Believe me, it is worth to go there and meet these people. It was very good for me to see also all these cool MVP-s out there and U also want to say thanks to our MVP lead Alessandro Teglia for cool MVP meeting we had there. I am very happy I got chance to visit Sinergija and I hope I will be back there next year.
---
Free e-book: Moving to Visual Studio 2010 Creating Twitpic client using ASP.NET and OData
---
See also