2 12 2010
Silverlight 5 announced!
ust finished watching Silverlight Firestarter event where ScottGu made a keynote where he told about the future of Silverlight. There were some demos of Silverlight by SAP and IIS Media Server 4.0 new features by Chris Knowlton who demoed how to stream webcam pic to desktop, Windows Phone 7 and iPad. There was also demo about system called dayforce. But let's go to new stuff now. In this postingI will introduce you fresh news I just got about Silverlight 5 new features.
Silverlight 5 new features
Video decoding using hardware resources,
when watching video screensaver is not coming on anymore,
Trickplay – playback with various speeds,
support for remote control devices,
data-binding debugging support (demo by John Papa)
improvements to MVVM,
custom mark-up extensions,
support for implicit data templates,
data-bindings in style setters.
New WCF & RIA Services features in Silverlight 5
WS-Trust support,
low-latency networking,
MVVM-friendly data source,
end-to-end support for complex types,
Windows Azure support.
Text and printing features
PivotView – support pivot views with deep zoom features (demo by Angela Wise),
text clarity,
multi-column Text Flow,
character tracking and leading,
full OpenType fonts support,
vector PostScript printing.
Graphics features
demo by Luigi & Guido Russo (it was funny one, worth to see),
immediate mode graphics API,
GPU accelerated 3D,
fluid layout transitions.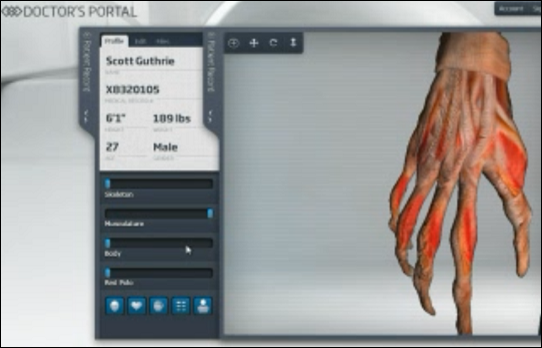 Medical 3D demo where Russos demoed what's inside ScottGu.
Out of browser features
demo by Dave Wolf,
multiple windows support,
support for P/Invoke,
enterprise group policy support.
Test & performance tools
demo by John Papa,
automated UI testing,
improved profiling support (memory, cpu, thread contention).
Performance
demo by Thierry D'Hers,
faster start-up,
hardware acceleration with IE9,
64-bit Silverlight runtime.
Interesting facts
more then million developers are developing on Silverlight,
Windows Phone Marketplace has more then 3000 applications,
IIS Media Services 4.0 supports video streaming to Windows Phone 7, iPhone and iPad.
When will Silverlight 5 be available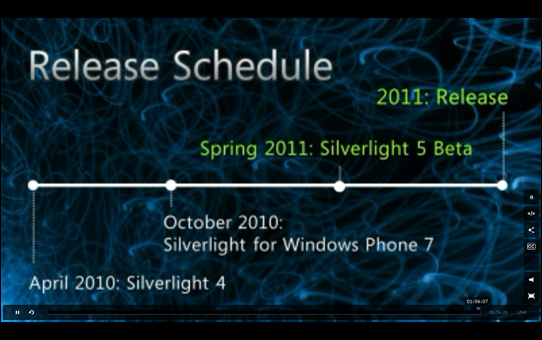 That's all. I think there will be a lot of posts about Silverlight 5 published during next days because – as you saw here – there are many new exciting features available in Silverlight 5.
---
Windows Azure – new portal, new services, new tools Connecting to Windows Azure web role instance using Remote Desktop
---
See also