12 07 2013
How I use OneNote
Over last years new Windows platform with personal cloud services has found its way to my everyday's life. Maybe one of most important service I use for work and in private life is OneNote. Before going to cloud OneNote was for me digital note paper that had not much use. When OneNote spreaded to web and Windows Phone too it won my attention and I made my bet on it.
OneNote everywhere
OneNote is available for me almost everywhere. It is on my desktop, on my SurfaceRT, on my web browser and on my Windows Phone. Thanks to SkyDrive I can use my note book on different machines and devices and it gives me a lot of flexibility I need. Besides wide availability I have one more good option – I can share my note books with my friends and family.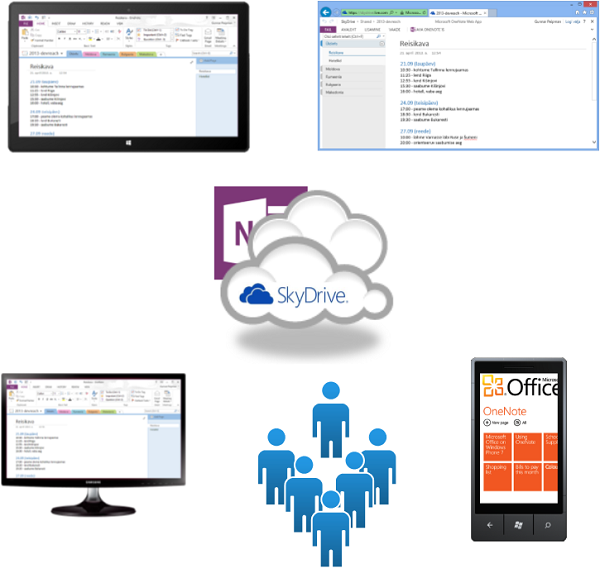 First this kind of availability of OneNote and also other Office files seemed to like something too ahead of time. Step by step I started using OneNote in different purposes and I found it more and more useful.
Meeting notes
After buying Surface RT and getting used with it I started using it for making notes on customer meetings. My laptop has many cables connected and I'm practically using it more and more like desktop computer. As cabling is annoying I don't take my laptop with me very often. Surface RT has almost no weight but it's not so small and limited as mobile phone. So it's perfect fit for customer meetings.

So, what you can do:
make notes quickly,
format text,
take photos of sketches on whiteboard.
Web connection is not very important in this point as I often doesn't need any access to internet in customer meetings.
When I'm back at my home office I usually have cigaret and after that I continue working on all important stuff. For this time meeting notes are already online and available for other devices.
On my desktop-laptop I write usually memo for meeting and as often those meetings give feedback about some project progress then often some new stuff comes for developers from these meetings. After memo is done I will create new tasks to Jira, describe them and assign tasks to developers.
OneNote as travel guide
The other and more advanced usage is using OneNote as travel guide. Before going to trip I will create new note book and gather all information about cities, hotels, cool places etc there. Also trip schedule and other important information.
Consuming this information is very tricky on multiple devices:
most trip information is gathered on desktop version of OneNote,
on trip this information is mostly used on mobile phone,
when planning day or using maps Surface RT is best choice.
I have used this kind of "travel guides" couple of times already and it's damn convenient. When information is changed on some device the changes are also automatically synchronized to others. I can add some details on Surface RT and minute later all information is updated also on phone.
No pics? Why? Because my biggest experiment with OneNote as travel guide is still coming and it happens very soon. After my experiment I will write special blog post about how to use OneNote as travel guide and how it works in practice. Just stay tuned!
Conclusion
OneNote is powerful tool for gathering and consuming free form information on different devices. Using SkyDrive as cloud back-end adds even more power – changes to note books get synchronized quickly across devices and you have fresh information in pocket all the time. Use cases like taking notes at meetings and using OneNote as self-made travel guide are just few examples about what you can do with it. If you need to produce and share information quickly and you need also local copy of your information then go with OneNote.
---
What is claims-based authentication? How innovation can turn to burning hell
---
See also