9 10 2013
DevReach 2013
DevReach 2013 is over and I am back home from my this autumn's Balkans tour. This year DevReach was held at new venue, had pre-cons day and first time I saw also books table there. Although there were not much my level hardcore sessions I'm still very happy with those softer ones I took because a lot of information I got is applicable in my daily work life. Here's my little overview of DevReach 2013.

New venue
DevReach took place at new venue this year – Paradise Center. Although few people were not happy with this place I found it to be better place than Arena where DevReach was held on previous years. Paradise Center is huge shopping and free-time center and if you have some free time slots to hang around there you can be sure that time flies quickly.
When having smoking pause you can enhoy mighty view to mountains from Paradise Center terrace.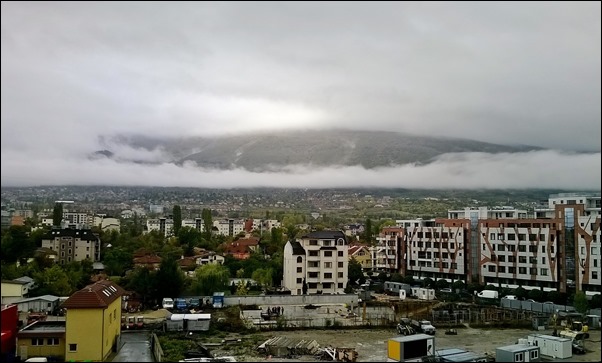 When weather is nice then at least I can enjoy view like this endlessly. Although new venue is cool it is still ~30min taxi ride in the morning to get to the venue from city center.
Why DevReach? DevReach is one of best events in region with great speakersand compared to similar events in more expensive parts of Europe it is also more cost-effective. Visiting DevReach couple of years and making new friends there you are like coming back to home. I liked the conference first time I was there and now I am stammkunde 🙂
Sessions I visited
Here's my short overview of sessions I visited:
Testing Code From The Pit of Despair with Phil Japikse
Session about legacy code and how to make it testable. Doesn't go to very heart and anatomy of legacy code but gives some hints about how to get the codebase to better state.
JavaScript for C# Programmers with Phil Japikse
This was something for guys like me – working daily on C# and have some basic JavaScript skills. Good examples about how JavaScript behaves unexpectedly and why it is like this.
JavaScript Patterns to Clean Up your Client-Side Code with Dan Wahlin
Overview of some imho home-brewn patterns that help you better design your objects in JavaScript.
Feedback potential – Make the best of it with Milena Pajic & Goran Savic
Easy to follow session about how to handle positive and negative feedback. Still not sure if this kind of session is perfect fit for conference like DevReach but still there were some good points.
Modern Tracing with Kathleen Dollard
High level technical session about how to use EWT in your applications. This presentation was actually very good surprise to me. Something new that I knew but had no chance to go deeper.
Developer Operations with Visual Studio ALM 2013 with Matteo Emili
Session about how to use Visual Studio ALM and System Center to support software already running on production and how to react to problems.
Does the optimistic concurrency resolve your blocking problems? with Margarita Naumova
Session with high technical level again. Concurrency and blocking in MSSQL Server. As I am not database guy this session was very interesting to me.
Improving the Quality of Existing Software with Steve Smith
Another session about code quality and legacy code (or how to avoid current codebase getting problematic).
Using the Cloud for Dev/Test with Brian H. Prince
Overview session about how to use Windows Azure platform and virtual machines to test your systems. Cloud can be very cost-effective when you need just number of machines to make tests for changes in your system before you make new release.
Why I took two sessions related to legacy code? Well, couple of days before DevReach I made presentation on same topic at user-group meeting at Velike Tarnovo and I just wanted to validate if my presentation is still something more unique (yes, it is, because it focuses on most painful part when working with legacy code).
Books
Good surprise for me was the fact that there were books sold at DevReach. And there were good discounts too. Seems like still people read books because some good new books were sold out for second day.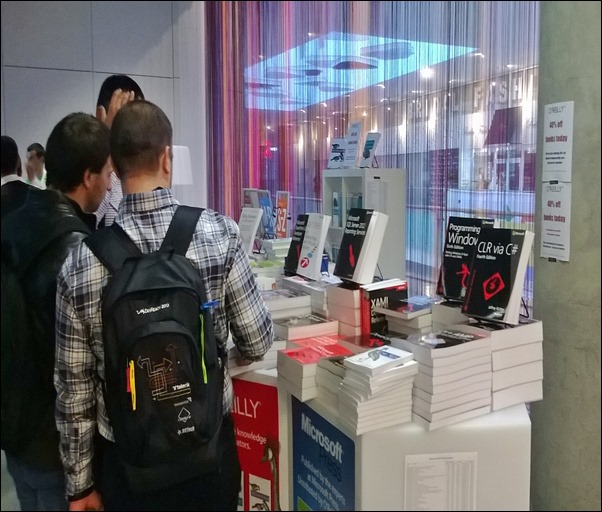 This is something that TechEd organizers should look carefully. Last time at TechEd there were books, yes, but you can just watch them but not buy one. Selling books at conference was forbidden. Instead you got some discount coupons to use later and of course, even though you have your luggage kilograms when you go back home from event, you cannot use these to get book from e-shop to your home.
Some nice words
It was again good to see my Bulgarian friends at conference and it was nice to meet with Natalia Dimitrova – one of DevReach organizers and Raya Yunakova – local DPE at Microsoft. I think that DevReach was organized pretty well at new venue and next year I will be back. I hope, of course, to find more hard-level sessions and I hope organizers can organize it. See you next year at DevReach again!
---
Speaking at Sinergija13 How to avoid throttling SQL Azure database with NHibernate
---
See also