9 11 2013
Using Surface RT for presentations
Last week I made presentation about out-sourcing where I introduced my international teams and our working model. This time I didn't took my work laptop with me because I decided to go with my Surface RT and see how it works for business presentations. Okay, it's a little bit tricky to get everything done but it's nothing too complex. This posting is short overview about my findings on using Surface RT as presentation machine.
Hardware
If you have Surface RT you have also Microsoft Office with it. You need some additional hardware to get your Surface RT ready for presentations:
micro-HDMI to HDMI cable,
micro-HDMI to HDMI with female port on HDMI side,
HDMI-VGA adapter,
clicker.
NB! I bought two cables because there are still many projectors around that have o HMDI input available. With VGA I'm ready also for older projectors.

NB! Although you can buy all this stuff from Microsoft site for 80$ I just visited local electronics shops and I got everything needed for around 40$.
I highly recommend you to buy clicker. Surface RT is small device with small keyboard. Switching slides using keyboard may slow you down for moments and it also may take your focus for some seconds. If you like to move then take clicker that supports 5 or 10 meters walking range.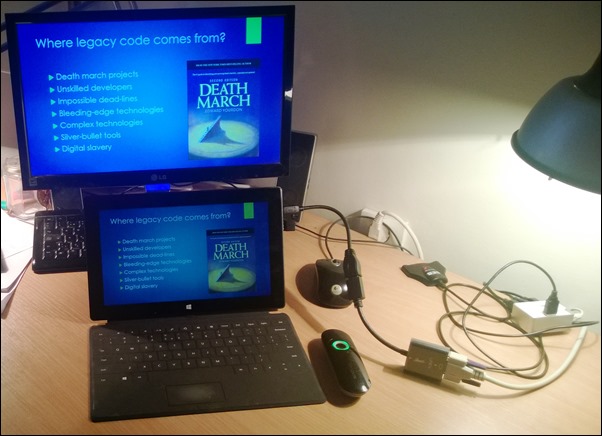 PowerPoint is tricky
PowerPoint on Surface RT is tricky and what you can do depends heavily on monitor or projector on the other end of cable.
If you see out of range warning on connected monitor or projector then it means the monitor or projector doesn't support minimal screen width 1366px required by Surface RT. Although PowerPoint switches to presenter mode automatically when you start your slide show there is no picture in another monitor if 1366p requirement is not met.
If 1366px requirement is not met you can still duplicate displays. Yes, you don't have presenter mode but still you can do your presentation. It's nice back-up mode for older screens and I really like that Surface RT is prepared also for some exceptional cases.
If monitor or projector on the other end meets 1366px requirement then presenter mode works like charm.
Performance
It is very important to make sure your Surface RT performs well when connected to monitor or projector, specially when you decide to go with presenter mode.
Make sure you can go through slides with no markable delays when switching between slides.
Try both – duplicated screen and presenter mode to find out which one has acceptable performance on your Surface RT.
Before testing and presentation close all additional programs and background services so there is not much running besides PowerPoint.
Avoid slides that may need additional resources to render (like high-quality images, OLE objects, video etc).
Conclusion
Surface RT survived my presentation in presenter mode pretty well. The performance was not brilliant and couple of times I had to wait around 5 seconds for slides to switch but it is not very much problem in presenter mode – you see the next slide and you can start with while switching goes on. I got all required cables and VGA adapter for around 40$ that is twice less that Microsoft asks for same thing. It's good idea to make sure before presentation that your slides doesn't have content that needs high performance from Surface RT as this is also possible reason for delays between switching slides. My presentation went well and I'm happy with my Surface RT.
---
Software rescue services Ten keys to successful outsourcing
---
See also