Let's go to TechDays 2013 Belgium!
Last autumn I found some very good presentations from Channel9 and they all were made during TechDays 2012 Netherlands and Belgium. One of those sessions was even so useful that I made some updates to my community presentations I worked on. This year I will visit TechDays 2013 Belgium to get better idea what is and see who's there. Who knows, maybe I can find some new friends from Belgium.
What is coming?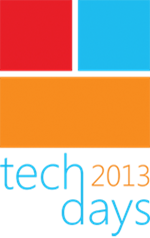 To concentrate all things to short list here's what's coming:
one day of active training about SharePoint, Visual Studio Application Life-Cycle, Exchange and security,
two days of sessions about Winodws 8, Visual Studio, Windows Server 2012, Windows Azure, System Center, Exchange 2013, Office 2013, Windows Phone and more,
speakers like Clemens Vasters, Bart de Smet, Jeff Prosise, Corey Hynes, John Craddock, Kurt Roggen, Dan Holme, Paula Januzskiewicz, Laurent Bugnion, Maarten Balliauw,
networking – good option to make contacts with fellow developers and IT-PROs.
When and where it happens?
05-07.03.2012 @ Kinepolis Antwerp. Antwerp is nice small city in northern part of Belgium. It's easy to get there from near-by countries and guys who don't live near can take flight to Brussels or Eindhoven and come with train (like I do). Kinepolis Antwerp is about 4km away from Antwerp central railway station and other popular areas. So if you take hotel near railway station then you can go with public transportation – it's not a long distance.
Why Belgium is cool?
Well… Belgium and also Netherlands are cute countries with nice towns and friendly people. For me these countries are relaxing as in my country people are always in hurry and stressed and pretty much closed. There it's different and it fits better with my nature. Also weather there is milder than in north.
Special beers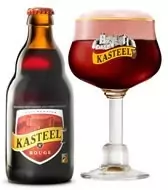 And here's more – beer and food! Take a look at this dark red beauty on this image. Yes, it's cherry beer and no, it's not done "like usually". This one is made using high quality cherry liquor – it's so damn good that I even buy it with damn high price here in Estonia.
There are more special beers like this – just take some cozy pub with big selection and enjoy. These beers are often strong ones but consequences in morning are not awful like with most beers in this world.
Anyway, our days there are spent in conference and evenings are free, so …. :)
Why I go there?
I go there as the materials of TechDays Belgium for previous years have been very good. When I find some event with good sessions and speakers then I go there for sure. Also TechDays is not extremely expensive. Two days of conference and one day of training is around 600EUR per person. Add there nice small town, nice people, cute small shops and damn good beers – what else you may want?