Speaking at Code Camp 2014, Macedonia
This year I have honor to be a speaker at Code Camp 2014, Macedonia. It's one of the biggest developers event in Macedonia. I have been in Macedonia as a speaker once before but it was community evening and not a big conference. This time I come to Skopje with new ASP.NET vNext. In this post I will give short overview about digital hell I prepared for Macedonian techies.
My presentation at Code Camp is about ASP.NET vNext or ASP.NET 5 as it is officially called now. It's a new world with many new features and changes. It's not your daddy's ASP.NET. As my dear Macedonian audience is gang of digimaniacs I threw out most of "soft" content from this presentation and replaced it with pure bit and byte stuff.
My ASP.NET vNext presentation
Here's what is going to happen:
short overview about what's new and why new ASP.NET is like it is,
demos, loads of demos (ASP.NET vNext, Visual Studio 2015, new C#),
ASP.NET vNext on Linux,
ASP.NET vNext on Microsoft Azure.
To make you wait even more for my presentation, here is the screenshot of ASP.NET vNext running on Linux.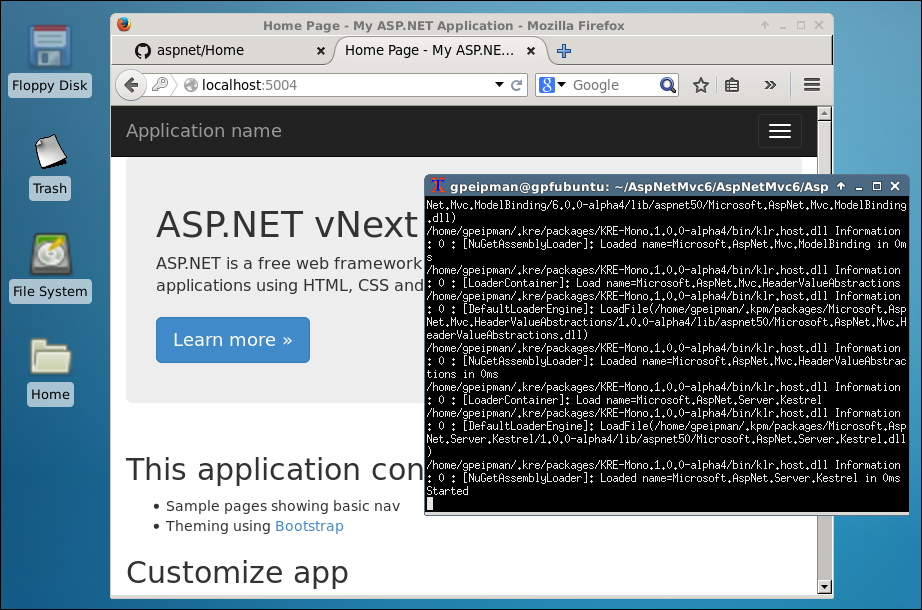 See you at Code Camp, Macedonia! Cheers!