Taking meeting notes with Lumia 950
In the beginning of year I bought Lumia 950 and got Continuum with it for free. Lumia 950 is excellent phone and I started experimenting with it. One of my first experiments was to make it companion device for meetings so I don't have to drag my work laptop with me. Developers usually work on powerful laptops and often these machines are annoying to carry around.
Bluetooth devices can be connected to Lumia 950 without using Continuum. Continuum needs power when it works. With charged phone and bluetooth devices there is no need for any wiring.
Making phone stand on table
First question that came to my mind was how to make phone stand on the table under around 45 degrees so I can see the screen when sitting behing a table. I didn't waste my time for searching cool accessories from internet but walked straight to nearest mobile accessories shop and asked what they have.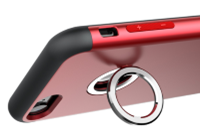 This is what accessories stores usually offer:
covers that also allow to keep phone on table in different positions,
frames and clips for same purpose,
magnets with ring.
There are also covers with ring available like shown on photo on right. This is Baseus Magnetic Ring Vihicle Mount that is available for 14$ at Alex NLD.
I took simplest magnet with ring as it was smallest option possible and ideal fit to my idea that I don't have to carry any inconvenient accessory with me when going to meetings.
Keyboard and mouse
As my idea was to have only minimal needed to use Lumia for taking notes at meetings I decided to buy small keyboard and some mouse that work over Bluetooth. It's all wireless and I don't have to take Continuum and cables with me.
I found Logitech Logitech Keys-To-Go keyboard for 30 EUR in local computer shop. I got Mac version as shop didn't had Windows ones.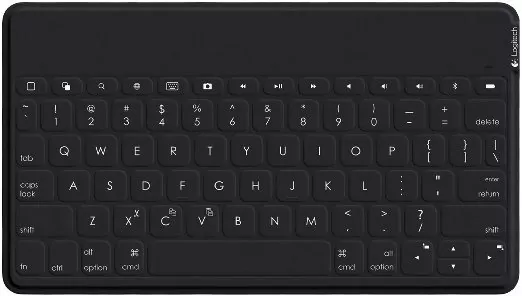 It weights only 175g and it's very thin. Compared to Surface Pro keyboards that can be used only Surface tablets this keyboard is more like a joke. It's far behind in convenience that Surface keyboards offer. It takes some practicing to be able to type smooth. If possible then please find some other and more convenient option.
I had better luck with mouse. Although I didn't found any convenient to use small mouse I still got pretty good one by Microsoft – Bluetooth® Mobile Mouse 3600.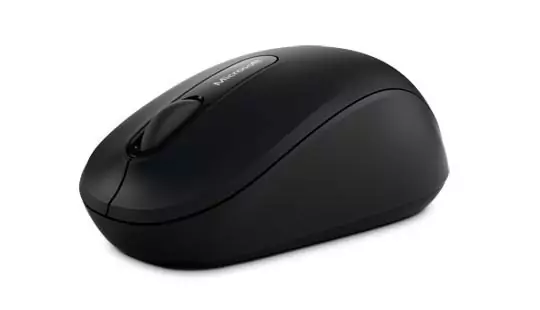 This mouse was good pick because it is convenient to use and it is also okay for working on laptop or desktop machine.
Connecting pieces together
With this set of electronics my mission on hardware was completed. The photo below shows how my new meetings set looks like.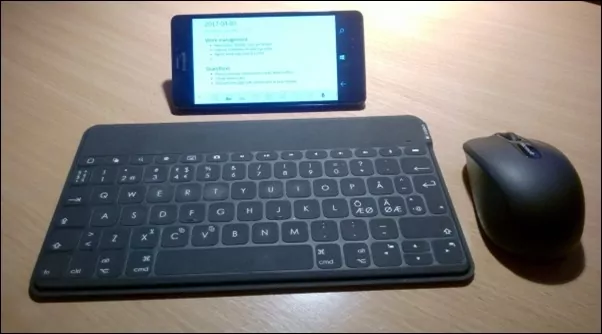 It looks small and more like torture set for masochists but in practice it is not so at all. Screenshot below shows how to use small knob to make phone stand on the table.

Now let's see how OneNote works for meetings on phone.
Using OneNote
OneNote is ideal choice for taking notes at meetings. There are many other scenarios where OneNote is usable here we will focus on meetings. On desktop and tablet OneNote works very well.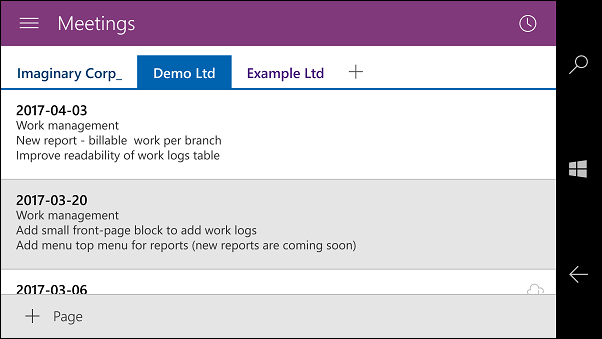 On meetings I prefer to use landscape orientation of screen as it leaves more room horizontally. I tried also vertical orientation but then screen is too narrow for me. Here is the screenshot of OneNote in action.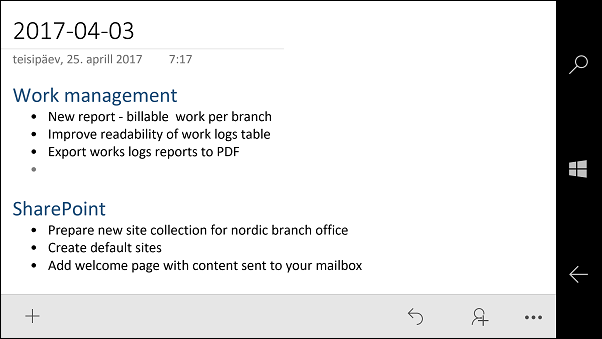 In real-life it's just at size of mobile screen. This is the screenshot I took with my Lumia when OneNote was running.
In general OneNote works okay but it has some issues with understanding where sreen ends, so don't be surprised if you type some words "out of screen". But it's a small issue compared to dragging full-weight laptop with you or buying tablet just for meetings.
Wrapping up
For me this solution works well. I don't have to drag my laptop with me and I can just go to meeting with two hands in my pockets.
Screen of Lumia 950 seems too small but it isn't – you write notes and not a novel
OneNote is okay choice although it has some little bugs
Microsoft is making updates to OneNote on mobile pretty often and things are getting better all the time
Make sure you buy convenient keyboard and not one like I bought – my keyboard feels like dead and dried rat with moving skin under fingers
Finally as a conclusion I can confirm that this technical set is very okay to tale notes at meetings.