Office 365 public blogs overview
This post is another one in series about discovering Office 365 public SharePoint sites. This time I will stop at blog that is set up with default site. Blog is good format for easy-to-produce free format content and many companies have blogs for this reason. In this posting I will make first overview of blogs offered with Office 365 public sites.
NB! On time when I made those experiments the only browser that had no problems with blog links was Internet Explorer. Chrome and Firefox both were not able to render links correctly sometimes and opening blog post on these two gave errors very often. You can try out the blog by yourself here: http://gunnardev-public.sharepoint.com/
NB! All screenshots here are in Estonian language. As my developer account was created Estonian settings as base ones and there's no support for multi-lingual public sites on Office 365 I have no way how to change the language to English. But don't worry, Estonian language is beautiful.
Out of box blog
You get public blog with Office 365 public home page that is created for you when you activate the service. Part of your new public site is blog and this is how it looks like (after adding couple of test categories):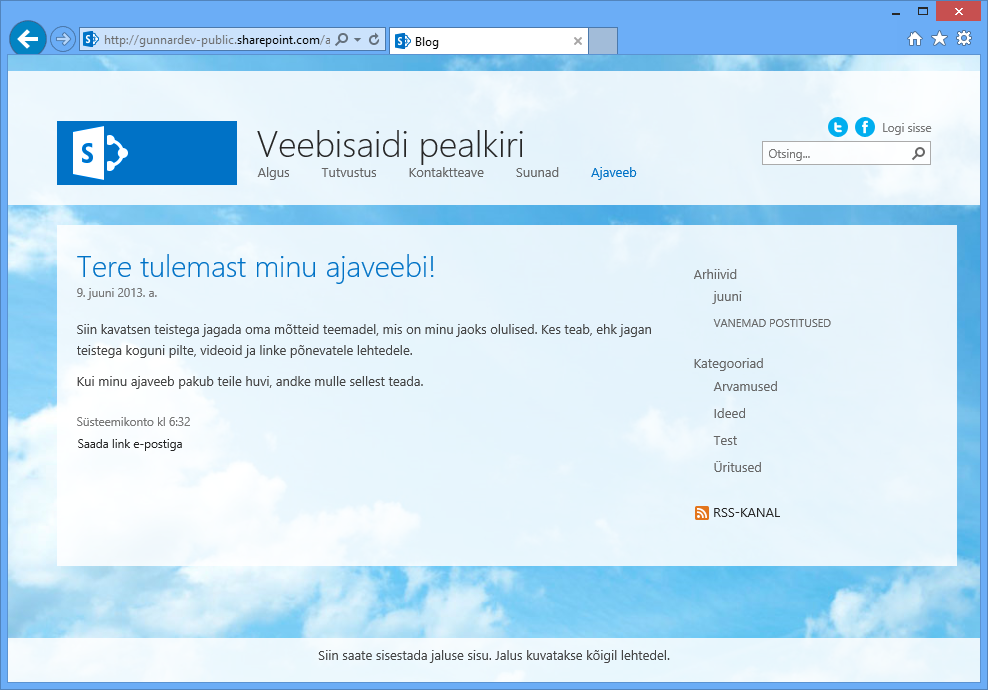 Okay, looks nice and promising. On right column you can see blog archives, categories and RSS link.
Microsoft Office Contact Retriever
The common problem is that IE users may see the following dialog box when coming to page: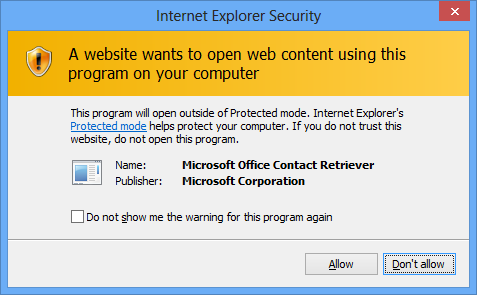 For me it pops up on every page and checking the checkbox and allowing contact retriever to work without asking me doesn't solve the problem. Maybe this issue is here because all these new home pages are still very fresh stuff.
If you really plan to go with this blog then please ask about how to remove this popup from Office 365 forums or create support ticket if you already have Office 365 account.
Blog archives
After adding some test posts my blog archive for June looks like on screenshot below.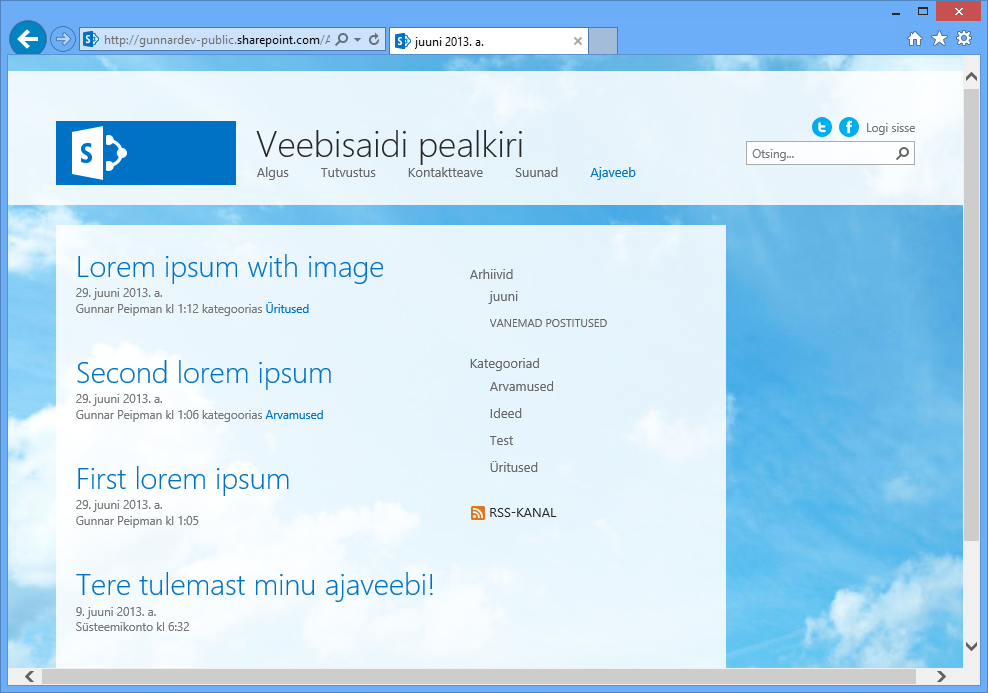 As you can see then archive views show only post titles, dates and author names. No other content available. Also guys with better aesthetics on design may notice that width of content area is narrower because there's no content that flows over maximum length of content area.
Let's post something
As we have blog up and running it's normal we want to post something and of course we want to use some convenient client program and not those limited forms that SharePoint offers.
Surprise! Due to new authentication system Windows Live Writer doesn't support posting to Office 365 blogs. I don't have currently any information about new version of Live Writer or its future or about new blogging tools by Microsoft.
Our next shot is Microsoft word and it seems to make good work.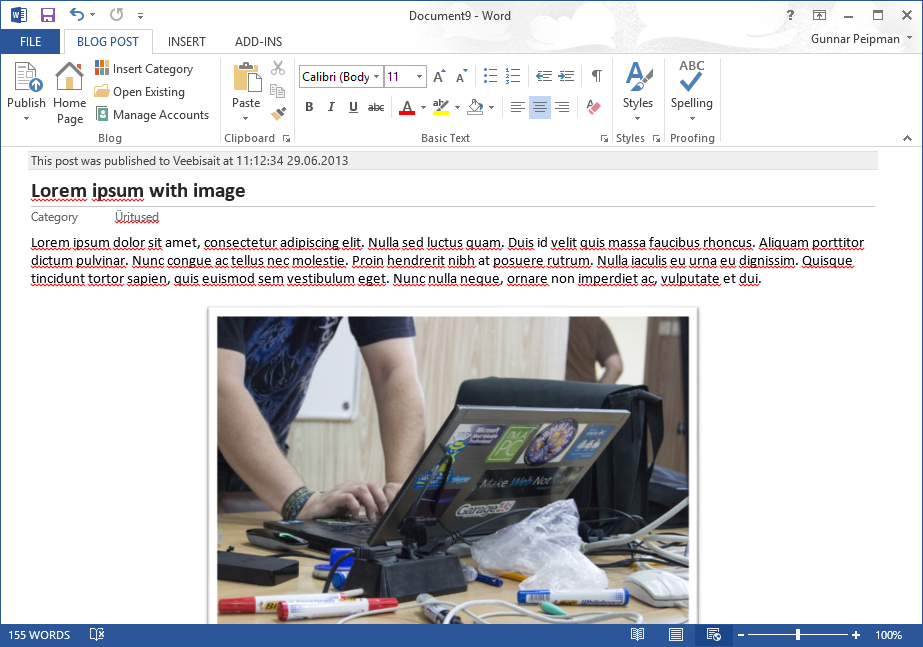 And after publishing the post in blog looks like this: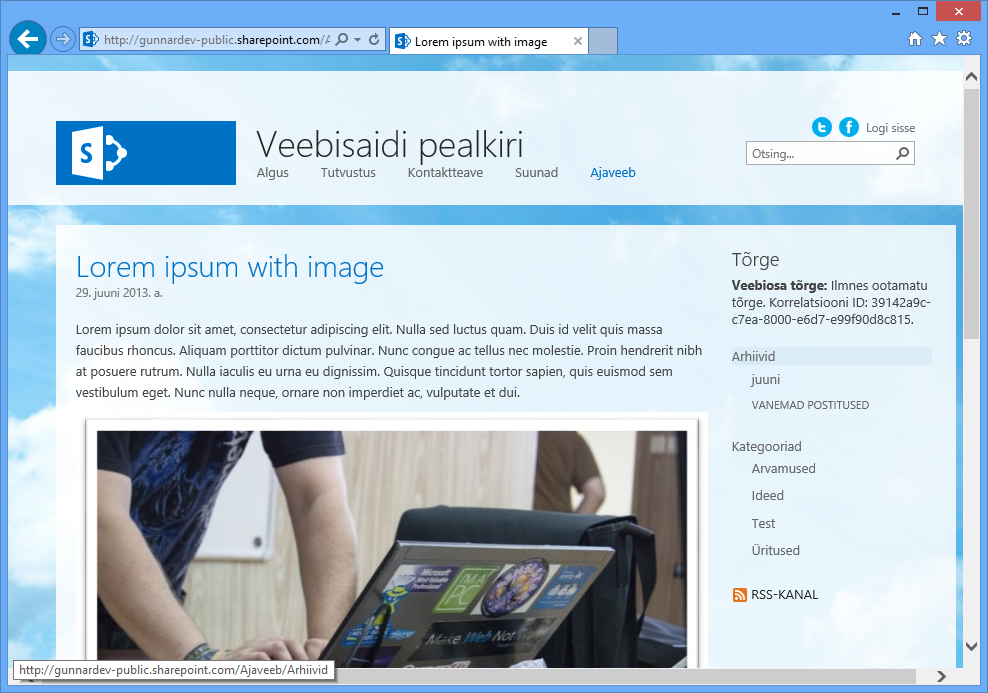 Seems good to me. One thing to notice – error message ont op of right column.
Blog tools web part goes mad sometimes. This problem comes suddenly and sometimes disappears the same magic way it came. If you want to "fix" the error then open page in edit mode and then remove blog tools web part. After removing add it back again. If you want problem to be solved permanently then remove blog tools web part and don't add it back – you don't need this web part anyway.
Conclusion
Office 365 public sites make it easy to start with blogging and all basic things are there. As the service is still very new there are frequent problems with browsers support and some web parts. Internet Explorer seems to be currently the only browser where blogs work normally. As this summer all Office 365 customers should move to online SharePoint 2013 there's hope that also public blogs get fixed soon. Meanwhile it's good idea to analyze your blogging needs and try out if Word works as blogging client for you.