Running SharePoint on Windows 7
I tried to put up SharePoint development environment on Windows 7 and guess what – I succeeded. I took smaller challenge and installed WSS 3.0 SP2. Of course, you can also install SharePoint Server instead of WSS. On my machine WSS 3.0 uses SQL Server 2008 Express edition as database. For MOSS 2007 you should have SQL Server 2008 Developer edition.
Here is the step-by-step guide to get SharePoint development environment up and running on Windows 7. I assume you have Visual Studio already installed. My laptop has 32 bit architecture, so I am not sure if WSS works also on 64 bit Windows 7 the way described below.
Follow the instructions given in Bamboo Team Blog entry How to install Windows SharePoint Services 3.0 SP1 on Vista x64/x86. Follow these instructions *EXACTLY* to get things work. When you insert computer name or SQL Server address then don't use (local) or localhost – SharePoint installer cannot understand later what is going on. Use your machine name (windows7\username, windows7\SQLEXPRESS) and install goes smoothly.
You may have problems with SharePoint Central Administration site because some menu options are missing. In this case you must run IE in administrator privileges as described in thekid.me.uk blog entry Missing Create or Extend Web Application in Central Administration. If you still have problems you may find some help from Bamboo Nation forum thread Access Denied to extendvs.aspx.
Install Windows SharePoint Services SDK.
Install VSeWSS 1.2. There is said that VSeWSS 1.2 requires Windows Server 2003 or Windows Server 2008. Don't get confused – you can install VSeWSS on Windows 7 without any problems.
Before deploying features to your fresh installation you must change permissions of SharePoint services. I found these accounts to be work without problems for services. 



| | |
| --- | --- |
| Service | Account |
| Windows SharePoint Services Administration | Local System |
| Windows SharePoint Services Search | Local Service |
| Windows SharePoint Services Timer | Local System |
| Windows SharePoint Services Tracing | Local System |
| Windows SharePoint Services VSS Writer | Local System |
Now your development environment is ready. You can create your test site and deploy your features to it.
To test web part deployment I wrote simple web part that prints out testing message. If you don't have web part to test deployment you can use my TestPart (ZIP archive with source code and deployment files). Result should be something like this.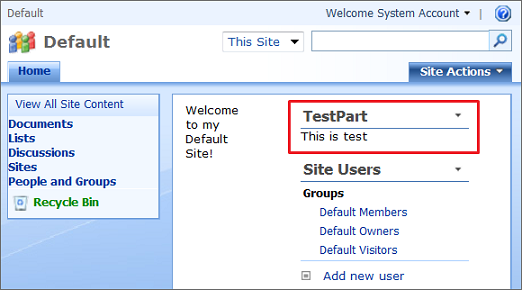 I suggest you to run Visual Studio as administrator so you can be sure you have enough privileges to deploy your features.