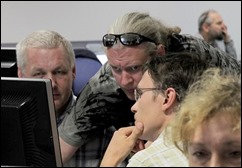 With my development teams I offer software development and consultancy services on Microsoft .NET and SharePoint platforms.
My team members are bright ones – well skilled, active and respected members of different communities in different European countries. We work close together to give our best to our dear customers.
Our customers are succesful enterprises at all sizes. We work directly with customers and also as part of teams of our business partners. We are flexible on cooperation models and for every project we will work out our own strategy to get things done the best way.
Services
Custom software development on .NET platform, web-based systems, middle-ware services and SharePoint solutions.
Consultancy services on .NET and SharePoint platforms, guiding teams on work their work organization.
Software rescue services. Your system is dying or something bad has happened to it? Bring it here and we give it new life!
How we work
Our work is mostly remote although there is no problem having some people working on customer or business partner site. Our teams include besides developers senior developer and project manager. Development processes are thin and simple, supported by management systems that are easy to use for technical and business people.
We prefer to work with customers as one team to achieve better results and make sure that customer gets the maximum value for the investment they make to their systems.