Get notification to e-mail when I post something
First of all – thanks to all my blog readers to be here with me. Last year was the one where the most important metric of blogs – number of page views – made its yearly record and reached a million. What should I say? Thanks a million! As some of you have asked my for one feature my blog should have I'm glad to tell you it's here – yes, you can get e-mail notifications about new posts published here.
Notifications to e-mail
One thing that my readers have asked is finally here. You can now get notifications about new posts in this blog to your e-mail. It's not a newsletter or anything else – it's just a short notification over last 24 hours.
To get notifications to e-mail please use subscribe panel on right column of this or any other page in this blog.
Here's how the notification looks like in my inbox.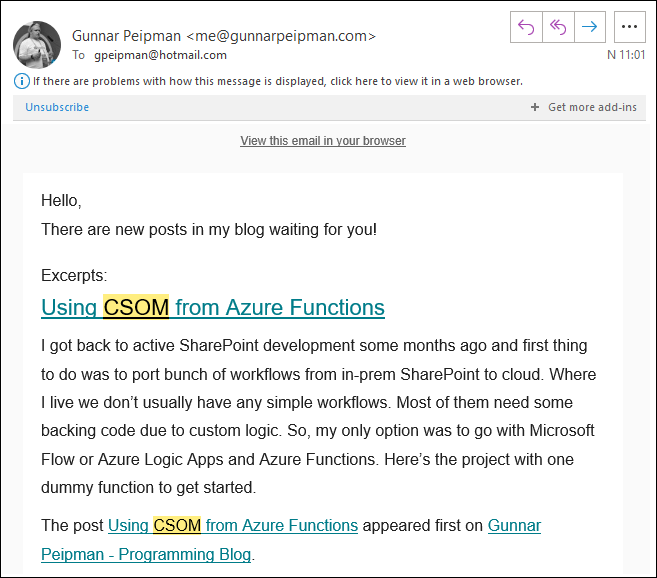 I'm using MailChimp for blog notifications. It's popular and respected system for mass mailing. You can always unsubscribe without any bad side effects. Also I don't know about any cases about MailChimp being part of some spamming scam. So, I think we are all safe with this service.
What if I don't want notifications immediately?
Sometimes you don't have time to read my blog posts right when they are published. Among my readers are also very busy developers who prefer to go through latest posts in the end of the week. Sometimes I publish some series with one shot and again – you may get more e-mails than you like.
Here's the trick how to keep me under control – use mail filters. If it's something new for you then it's worth to try out. I'm heavy user of mail filters to solve chaos and order questions in my inbox. Here's the screenshot of Rules Wizard of Outlook. Make sure you make rule for blog@gunnarpeipman.com as this is the sender address of notifications.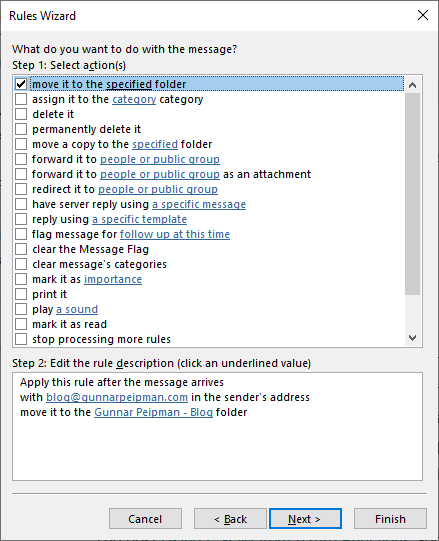 I'm sure that such a elementary thing as mail filters are also supported by GMail and mail clients of Apple and Android devices.
I wish you all a happy new year!