Free e-book: Moving to Visual Studio 2010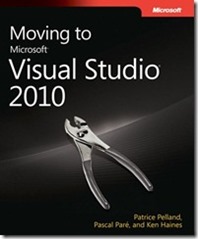 Those who are still using older versions of Visual Studio may find the free e-book "Moving to Microsoft Visual Studio 2010" useful when deciding if it is time to move to Visual Studio 2010 or not. The book is written by Ken Haines, Pascal Paré and Patrice Pelland who all work in Microsoft Consumer and Online Division.
I moved to Visual Studio 2010 as soon as I got the first version of it and if I'm correct it was even before first public beta. After couple of days playing with Visual Studio 2010 it was clear to me that I want to stay on this platform and I will start using it in real projects as soon as first stable version is out. But there are still a lot of guys who still plan the move or who are thinking about it. I hope this book will help you make your decision.
Table of Contents
I Moving from Microsoft Visual Studio 2003 to Visual Studio 2010
1. From 2003 to 2010: Business Logic and Data
2. From 2003 to 2010: Designing the Look and Feel
3. From 2003 to 2010: Debugging an Application
4. From 2003 to 2010: Deploying an Application
II Moving from Microsoft Visual Studio 2005 to Visual Studio 2010
5. From 2005 to 2010: Business Logic and Data
6. From 2005 to 2010: Designing the Look and Feel
7. From 2005 to 2010: Debugging an Application
III Moving from Microsoft Visual Studio 2008 to Visual Studio 2010
8. From 2008 to 2010: Business Logic and Data
9. From 2008 to 2010: Designing the Look and Feel
10. From 2008 to 2010: Debugging an Application