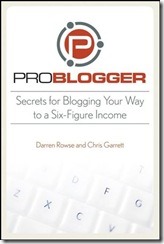 Recently I readed a book titled as ProBlogger: Secrets Blogging Your Way to a Six-Figure Income. Authors of this book are Darren Rowse and Chris Garrett – the veterans of commercial blogging business. Darren is also owner of the famous ProBlogger site and b5media.
ProBlogger book is about how to make money with blogging. Blogging can be also full-time job and sometimes it can make you rich. Usually it doesn't as there are not very much people who have patience enough to build the blog, grow social networks and study the social media for years before blog turns to be profitable.
The book contains very good common blogging tips that every blogger should know. We can also find advices about how to build money making blogs, how to monetize and promote them. And it was good surprise to me to find also some real money numbers that popular blogs are making.
ProBlogger book covers also simpler money making options than building a commercial blog or blog network. You can find tips about how to start paid writing. Also topics of trading the domains and existing blogs are covered.
If you are deeply interested in making money with blogging or you want to find out some new exciting tips and tricks about blogging then this books is for you.