What's new in next version of Microsoft Edge
Next version of Microsoft Edge browser is replacing its current rendering engine and in future it will run on Chromium – the same rendering engine used by Google Chrome browser. Edge gets total rework and ends one era in Microsoft history on browsers field. With new browser there will come interesting new features. Here is overview of insiders release of next Microsoft Edge.
Why rebuild of Edge? I don't have any inside information about it but I think Microsoft wants to end the struggle of building their own rendering engine and focus on building the browser that introduces and works well with their online and desktop services. The Verge article Microsoft reveals all the Google things it removed in its Chromium Edge browser lists Google services removed from next version of Edge.
Getting Edge Insider builds
Newest version of Edge browser are available at officials Microsoft Edge Insiders web site. Downloads are available at Edge Insider Channels page.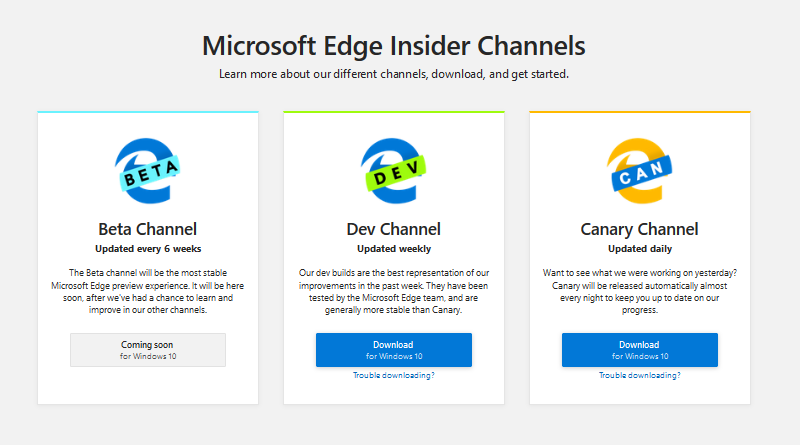 Although beta channel is not opened yet it's possible to get weekly updates from Dev Channel. Those who are very brave and want to see on what Edge developers worked yesterday can choose Canary Channel with daily builds.
Many things work already well with new Edge but there are also many things missing in new version that current version has.
Edge has new installer that looks nice and works smooth. Just let it run to end when installing.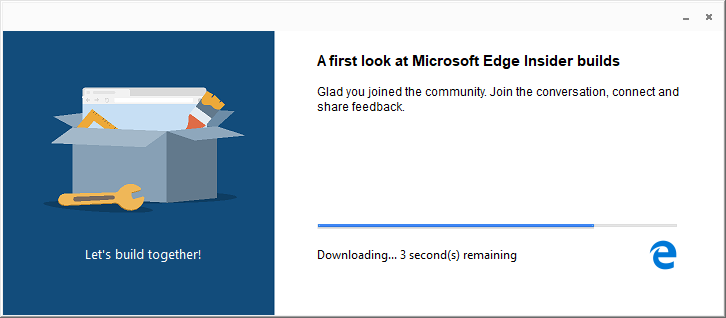 After successful installation browser opens and it's time to choose if Edge Insider version takes existing data from Edge browser or is it better to start with minimum setup.
Browsing
Browsing doesn't introduce any new visible features. But Edge Insider works fast and even when I had multiple tabs open with some heavy pages it was still stable and didn't slowed down. The following screenshot shows my posting Running WordPress on .NET Core open in Edge Insider.
Still behind the scenes there's heavy work going on by Google and Microsoft to make Chrome and new Edge faster and more stable on Windows 10. Here is the list of accepted commits to Chromium by Microsoft.
Settings
Next version of Edge introduces new settings page. It looks better and more understandable to me. Settings are organized and grouped better than now. Interesting thing is support for profiles and from frontpage of settings we can add additional accounts if needed.
Home button on browser toolbar is optional. We can turn it on if we need but by default it's not enabled.
Showing and hiding favorites bar is chaotic right now. Sometimes this setting works and sometimes it is ignored. Not sure why but okay – it's not stable release.
Another interesting set of settings is On startup. If we have our regular set of tabs open in Edge then we can make it to remember these. Next time when we open Edge it will open all this tabs automatically.
This feature is probably not so interesting for home users but those who use Edge at work may find it very useful.
Extensions
Next version of Edge will support plugins from Edge addons site and Chrome Web Store. To support non-Microsoft extension stores there's setting on bottom left part of extensions page.
Developer mode is for extension developers. Currently there are few settings to load extensions unpacked and pack extension.
When extensions from other stores are allowed then it's possible to install extensions from Chrome Web Store. Here is screenshot of OneNote Clipper extension I installed to Edge Insider from Chrome Web Store.
Developer tools
Edge Insider has also new developer tools. To open developer tools click CTRL+SHIFT-I or select element from page using mouse. The following screenshot shows developer tools opened on my blog post Running .NET Core apps on Windows Sandbox.
I found also a new feature called Browser task manager. It's a small window showing browser processes with their resource consumption. Handy and useful tool to see what's going on in browser and if needed then close down suspicious processes.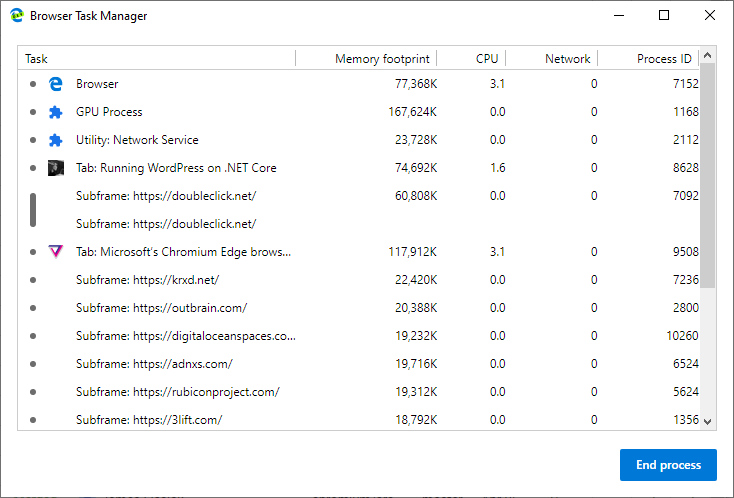 Wrapping up
Using Chromium as rendering engine for Edge seems reasonable and good decision by Microsoft as it allows them to focus more on browser and its support to Microsoft services. It's good to see that Microsoft together with Google is committing to Chromium a lot of work that results in better rendering engine. Next version of Edge will also introduce new settings, user accounts and advanced synchronization.